Blog
Restaurant Social Networking Guide
Do you have a restaurant, pub or similar business and want to improve the communication on your social networks? Did you know that you can get new customers through social media?
If you want to take advantage of all the positive things of a good network management for your business, this marketing guide is for you. You will see how through social media you get new customers and make a wider audience interested in your establishment. You can achieve all this through a single program: EDIT.
EDIT is an online graphic design program that will allow you to create all the graphic designs you need with the resources we have in a single click and without having any design idea. Unlike the other editors, with EDIT you already start with a template made by a professional in which you can add and remove things to your liking. The result? Fully customized professional designs in a minute!

ADVANTAGES
There's a saying, and it's true that we eat through our eyes. Therefore, do not neglect your social networks, if you get your followers to water their mouths with your profile, they will not hesitate for a minute to go to your restaurant. EDIT will help you with the profile on the networking platforms, but you can also create posters, flyers and other physical resources for your local restaurant. 
WHAT NETWORKS YOU NEED TO BE ON
We know that it is not easy to get enough time that social networks require for a business so in addition to facilitating your work with the posts, we will tell you which are the most important so you can focus on it and not waste your time in other secondary things. Of course, if social networks are your passion do not hesitate to be active in all, it is a great way to make yourself known!
Instagram


Instagram was born as a platform to share exclusively photos, your best ally! When food enters through the eyes, no one can take it out of the head. That's why it's the network you have to give the highest priority to, also in recent years Instagram has become the most used social networking platform,  even surpassing even Facebook.





Take advantage of all the benefits of this platform and stay active through stories and posts. Share photos of your meals, cocktails... but don't forget to inform your followers about menus, special offers and promotions as well. Don't forget to encourage your customers to also share photos of their food (something very common in Instagram) and mention your establishment. You should also create your own hashtag for all your followers to use when sharing their photos. Free advertising for you!
Facebook continues to be a benchmark for all users when it comes to learning about a company. Therefore, you should not leave it aside. It is very important to reply to all users who contact you in the shortest possible time and, like Instagram, to promote your premises through photos, promotions and offers.
As Instagram belongs to Facebook, you will be able to upload stories and publications simultaneously to both profiles. But watch out! you should not share the same content on the two social networks always, each one is different.
Facebook is the best platform to share valuable content for users: news, tips, videos ... about your restaurant or establishment. Instagram, on the other hand, is based more on aesthetics.
CONTENTS
Once you're clear on which networks are best for your establishment, now let's talk about what kind of content you can share on them. Of course each store has its own personality and its own star products. A restaurant is not the same as a bar. However, we have created a series of specific templates that will adapt to the needs of any type of catering establishment. Remember to be active in the networks and publish content weekly and on a very regular basis.
Here are some ideas for regular posts you can do!
What better way to inform your customers than by showing them a menu with an attractive design and get that just by seeing it opens the appetite. In the editor you will find many templates that will serve as a bedrock for just having to introduce your dishes and ready! If one day a meal change, do not worry just change it in the template, in 5 seconds will be done.
Do you really like the menu card design? Print it and show it to your customers. You can download your designs in the format you need.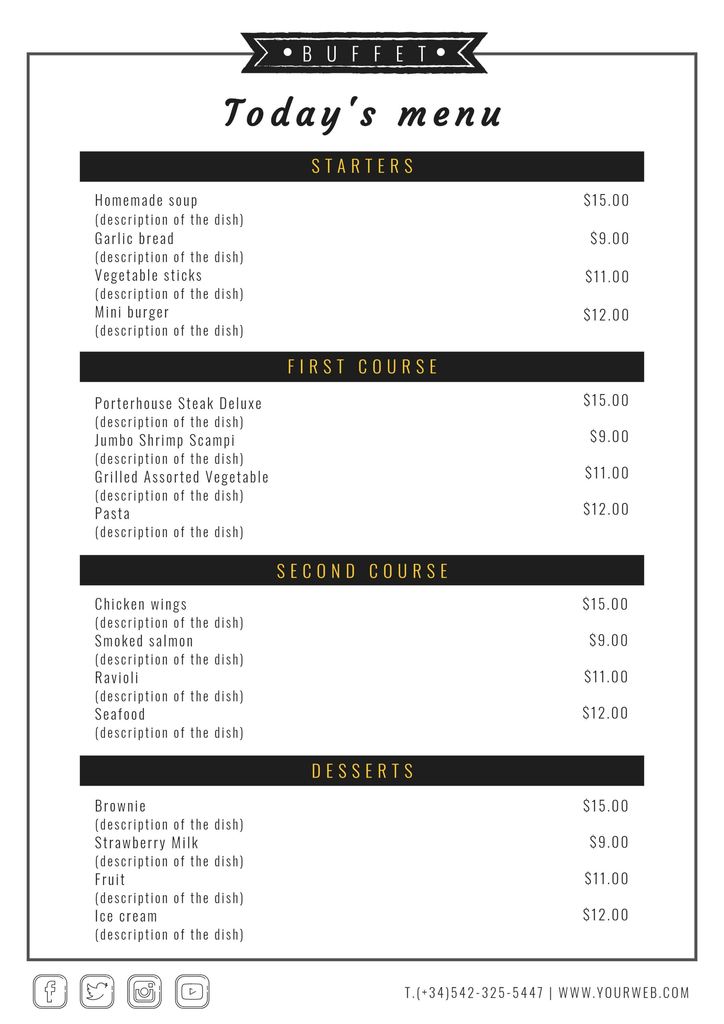 Surprise your followers with the daily special, they will surely dare to go to your restaurant. In the same way, you dedicate more to the night world you can show them which is the special of the house.
Once you have created your template, you only have to change the photo to update it every day, week, month ... Print it and make posters for your local too.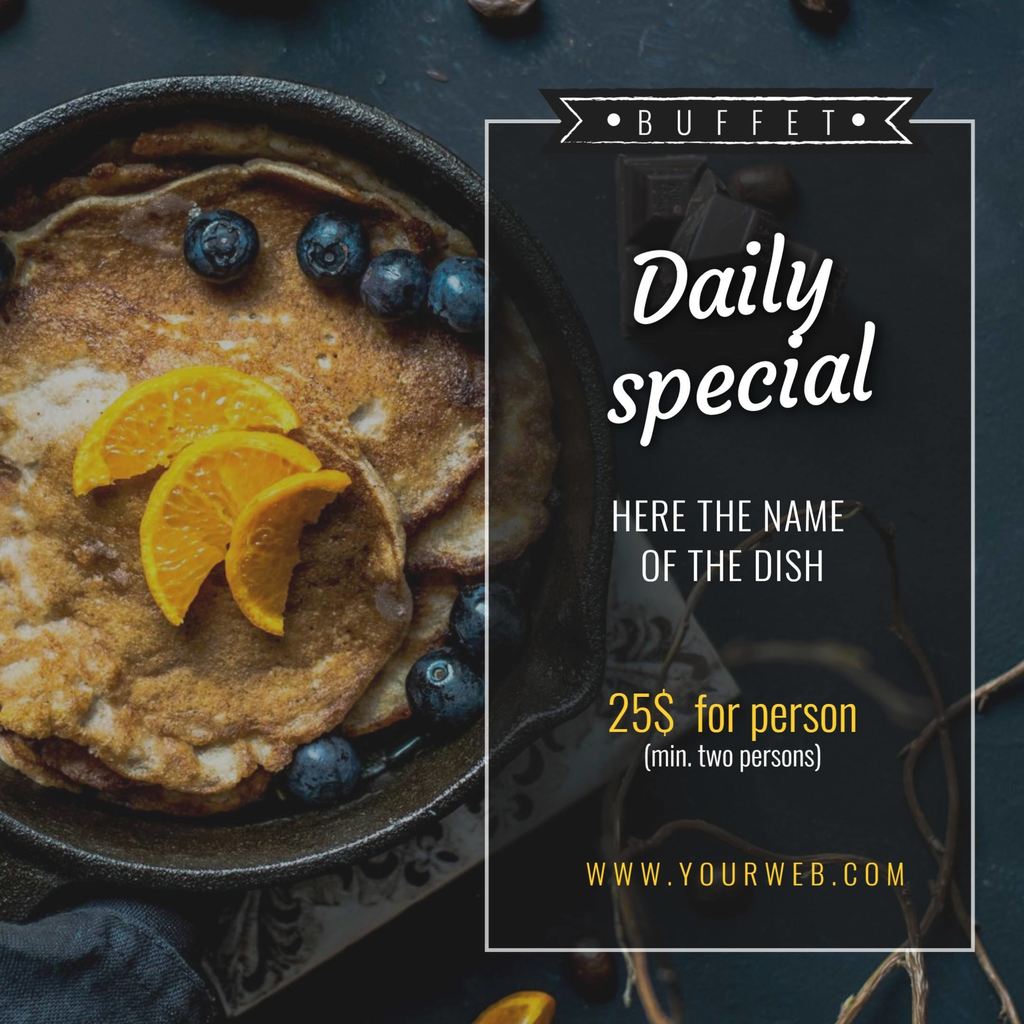 Wine lists, dessert list…
It is similar to the menu, but will serve to inform your customers about the wide range of products (like drinks or desserts) they can try in your establishment. If you want to create a better image and more impact use the same design style in all charts, menus and other graphic resources. For this we have created special packs.
One of the things that makes your store more attractive to customers are promotions and offers. Don't forget to share them in networks with different designs that will attract attention. In EDIT you will find templates from the "Happy Hour" as the menu of the house to 50%. Of course, they are only examples, you will be in charge of adapting the templates to your offer.
If you get your followers accustomed to a specific day to present promotions it is likely that they will be aware of your profile every week so as not to miss it.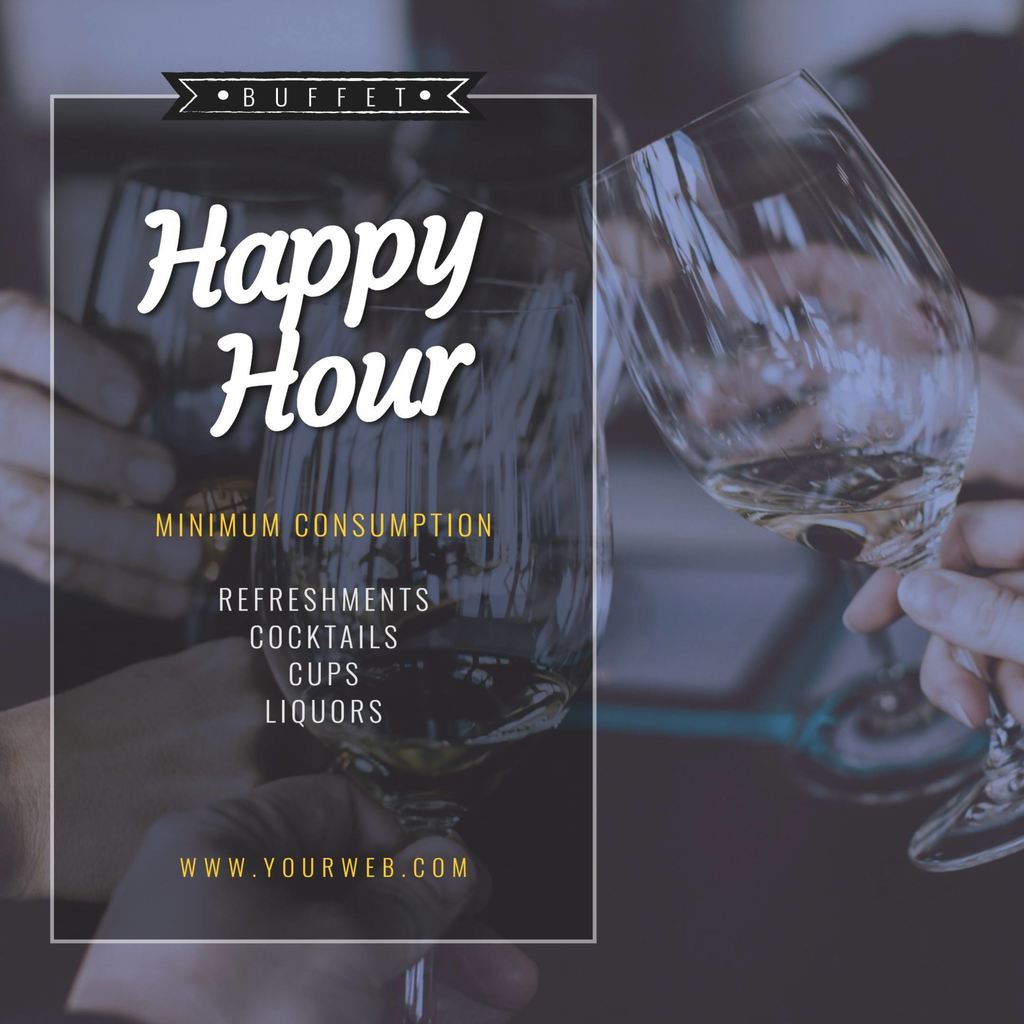 You can't miss it! Giveaways are an effective way to win followers and above all to strengthen our customers. Whenever we give something away, the customer's esteem for the company increases. In order to do so, you only have to offer one service (a dinner voucher for two, a drink voucher...) and explain the conditions of participation, which are usually as follows:
Give mg to the publication

Be a follower of the profile

Tag one or more of your friends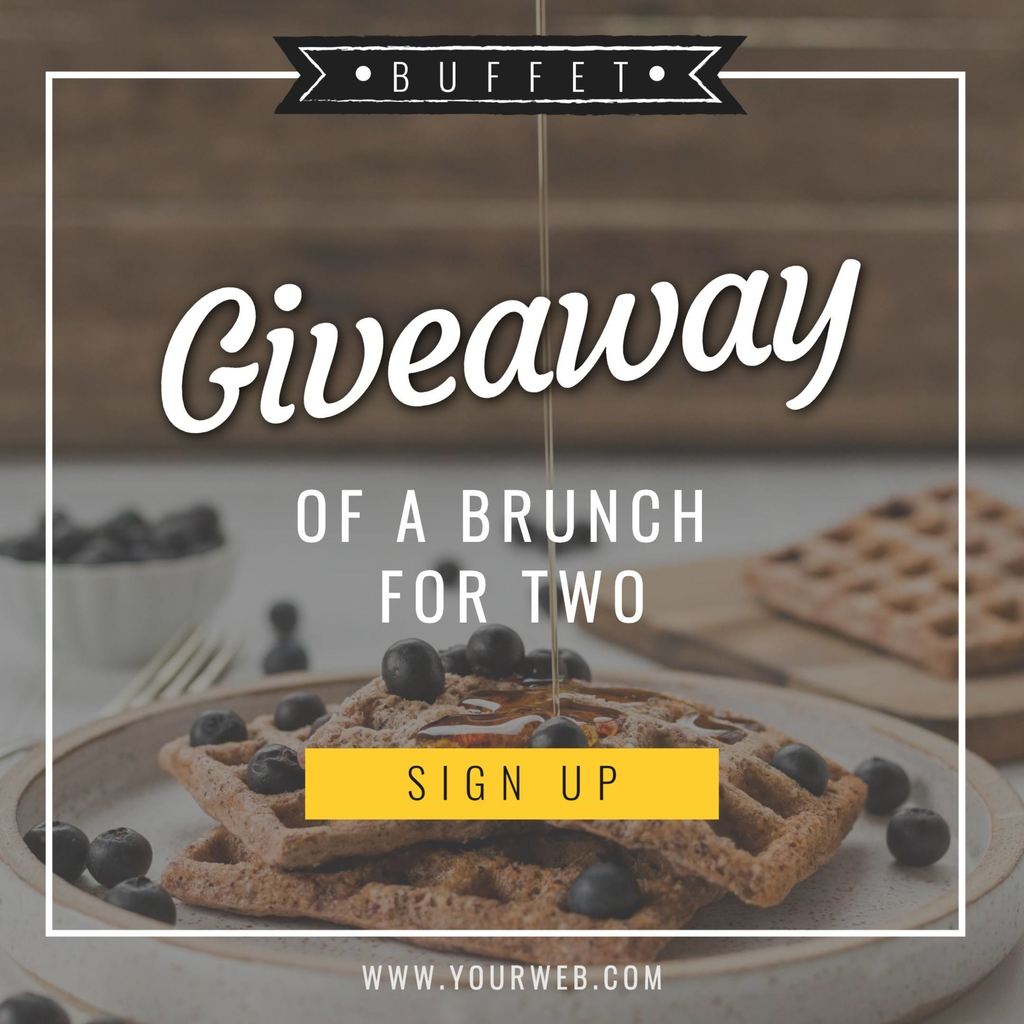 Other publications

Personal wanted

: if you are seeking personal, you would be surprised how many people you can find through a post on social networks. Also, you don't need to explain which is your restaurant /pub, they can see it through all the photos in your profile.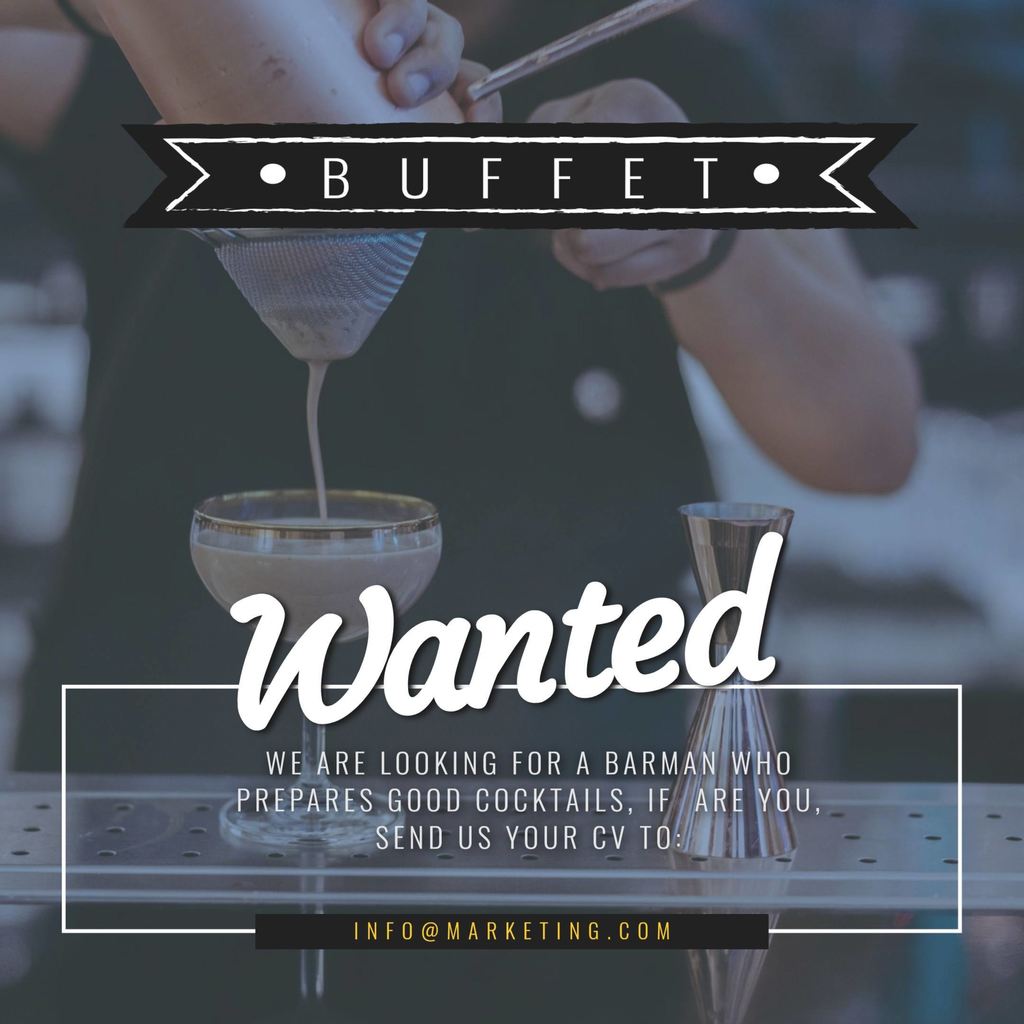 Business Cards

: More than a publication, which can also be a publication, this is a resource that you can easily create in EDIT following the same design line of the remaining elements ready to print. Business cards are a very important element that cannot be missing in your restaurant.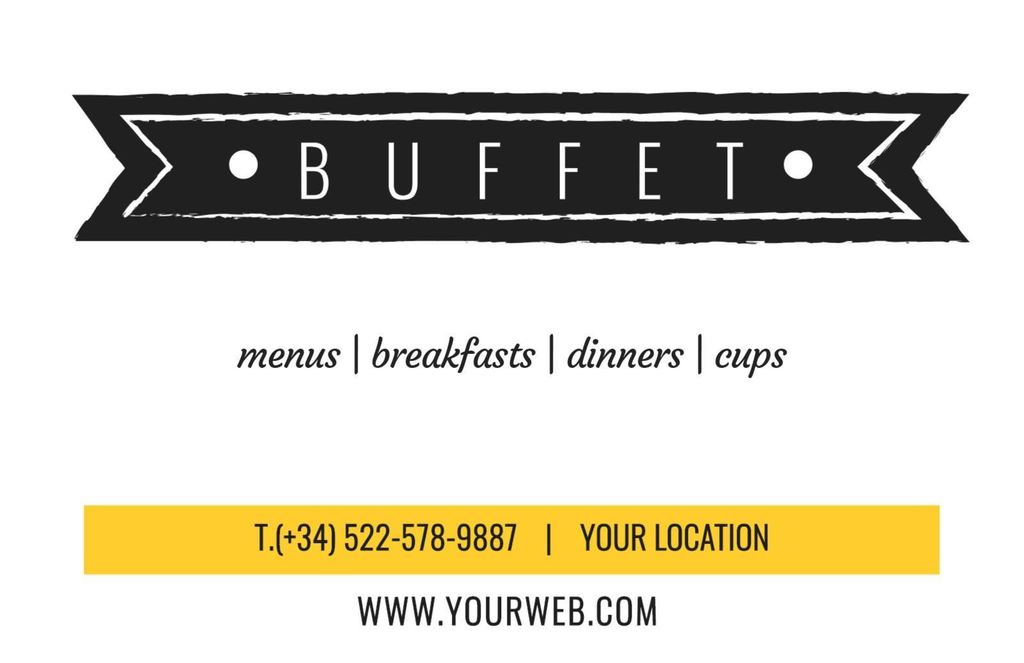 You will also be able to create other types of cards, loyalty cards that consist of cards with space so that with each consumption you put a stamp and when you get an x number of stamps, the customer will receive the service for free.
Don't suffer! You can create all your content in the blink of an eye thanks to EDIT. In the editor you will find hundreds of templates that we have prepared especially for catering establishments. This way you won't spend more than 5 minutes of your time a week to have all your social network posts ready.
TIPS AND ADVICES
Promote your business through Facebook and Instagram Ads.

Thanks to this tool of Faceebook or Instagram, you can go one step further with the promotion of your business. More and more the algorithms of these networks are forcing to pay to promote the publications because otherwise they are only shown to very few people. The good part is that making an ad on those networks can come out in a very economical way if we know how to segment well. 

By investing a small amount of money our ad will be shown to the target audience. For example, you can segment according to the age and location of your local.
Invite your customers to use your hashtag

. As we talked about before, the fashion of sharing photos of appetizing food or spectacular cocktails is something very common at Instagram that people do to make your followers jealous. Invite customers to share their photos using the hashtag of your local (you can encourage them by making a giveaway among all who use it). This is the best form of advertising you can have because somehow through the photos are recommending it to their followers and friends, the typical word of mouth that always works very well.

Measure your actions

. This section is fundamental in any marketing action, you always have to measure the results. There are different ways to measure how all the actions you are carrying out in your networks are working. The easiest and most basic way is to do it from the very metrics that the networks provide you. There are other tools that we will discuss below that will provide you with more advanced statistics. This way you will be able to know how your audience interactions are and investigate what are the best times to publish and what type of content works best. Little by little you will improve your profile.

OTHER NETWORK MANAGEMENT APPLICATIONS
HOOTSUITE

: is the best tool to manage your networks. It allows you to control the different profiles from the same panel. You will be able to organize all the future publications in the networks in a single day, since you will be able to leave them programmed through this platform. It is very efficient because you can forget about holidays and only have to invest time one day a week to get everything ready. 

Hootsuite also provides a series of advanced statistics and analyzes the investment you make in the networks and indicates its return. Today is one of the most complete tools you can find. It offers different plans but in its most basic version, free, you can manage up to 3 social networks from the same panel. Enough to grow your business!
BUFFER

: is an ideal tool to create calendars of contents (essential) to organize your networks. In addition, as in the previous case, it allows you to schedule all your publications. It is similar to Hootsuite, its free version also has some limitations but it is also very complete and easy to use. The great advantage of Buffer is that the App version is available and you will be able to do all your management from your smartphone.

AGORAPULSE

: similar to the previous ones, this application allows you to manage different networks simultaneously. The main advantage of this tool is that it allows you to closely monitor interactions with the audience, creating very complete statistics that will help you know the best times to publish and the day of the week and type of content.

BUZZSUMO

: this platform allows you to analyze and know what is the most popular content on social networks at a given time. It is very helpful because you can segment your focus of interest and know what your target customers are talking about. It also allows you to divide these searches by social networks so it is very precise. For example, if people in your area only talk about a football match, you can take advantage of the situation and create promotions related to this match or simply comment something about it, which will make them feel in tune with your brand.
We would like that after these simple tips you are encouraged to try how easy it is to have a professional profile for your business and start benefiting from all its advantages as soon as possible. EDIT can save you a lot of work and that's why we invite you to try it now. In addition, we offer you something that you can't refuse: try EDIT Premium for one month for free and access the exclusive packs we have prepared for catering companies.