Today we want to present you a new modification of EDIT that will allow you to add gradients to your texts in a very simple way and that will make your images the most modern and fantastic in a very simple way.
Gradients can evoke different opinions but in general, or you love them or hate them. However, the only thing we have clear is that in recent years it has become an increasingly popular style, which we can find even in logos today. EDIT opted for a degraded logo, do you encourage yourself with yours?
Maybe you have never dared to use it because you do not know how you could add it to your texts or you do not know what colors to use. Don't worry, this is not gonna be a problem anymore. In our editor you will find the option that will allow you to add gradients very easily and we also show you suggestions of colors that will make your creations stand out from the rest.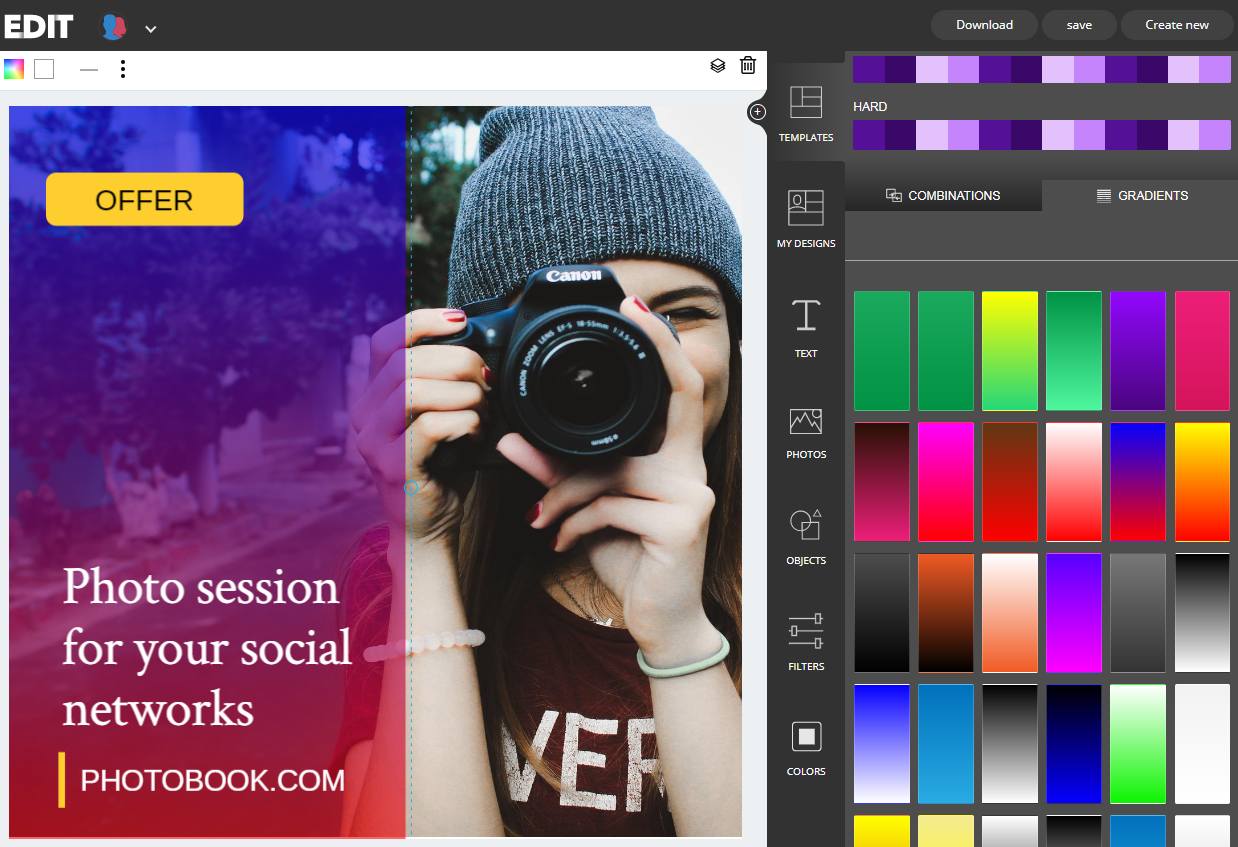 Other editors and editing programs also offer you this option to add gradients to your texts, however, its use is complicated, in many cases it is paid and it requires a lot of time to learn to master it with dexterity. EDIT facilitates this tool free of charge for all its users. In addition this new option is very interesting if we take into account that a few days ago we showed you the presentation of the technique of typographic combinations. Thanks to it now it will be very easy to find the perfect text composition for your images.
It is true that we have to take great care in the choice of colors and the strength with which we want the gradient to work because this will be essential for our finish to be fantastic. EDIT offers you a wide range of color combinations that have been created especially for you. Behind them, there have been hours of study of the colors to make you a selection of the best combinations. But as always you have the option to create your own gradient from the colors that you want. You'll only have to choose it with a simple click and you'll see the result at the moment. You don't need to download anything, just access the Internet from any electronic device (tablet, mobile, laptop ...) and you can start designing.
You just need to have an idea of ​​how would you want to be the result of your image and start creating and editing. From here, EDIT will make sure you get what you were looking for. The steps, the same as always;
Enter the editor and choose the type of image you want to create.
Select the template that best suits the hundreds that we propose or create your own from scratch.
Add a background image and start editing with text, objects, filters ...

Select the combination of texts that best suits your design.
Change its color or add a gradient! Use any of the color proposals or create your own.
4. Your image is now ready to be shared with your followers.
The use of the gradient option can be very attractive when we are creating images as YouTube thumbnails because it helps to get the attention of the user but can also be used for more formal publications if we use more serious colors. In any of the cases, it will help you to give a very professional touch to your images, but without hardly investing time for their results.
Do you dare with the gradients? Don't wait to try it!