Have you ever gone to upload a photo to your social networks and it has been published with a different size than the one you wanted? Surely yes. Social networks such as Facebook, Twitter, Instagram ... process more than 40,000 files per minute. In order to manage all this information, the processors compress the files, thus speeding up the work. The problem is that the size and image quality can be modified if we have not take into account it before.

Have you ever thought about what you would think if you entered an establishment and saw everything messy? The same can happen when someone enters on a profile for the first time and sees that the profile photo doesn't have the proper format, is pixelated or has low quality... The first thing you will think is that if they don't bother taking care of something as basic as the image that they give to the public, neither will they do it with the service that they want to offer.

That is why it is very important to pay attention to the size of the images and prepare them correctly. If you keep reading this article you will find a list with the recommended measures and sizes to avoid these errors updated for 2018. If you follow the proposed sizes you should not have any display problems when you upload your files.
If you prefer to choose the easy and fast way, we recommend you to take a look at EDIT, an online image editor. With this program you will only have to select what type of format you are looking for (banner, Facebook cover, Instagram profile pic...) and you won't have to worry about anything else, the sizes will be adjusted automatically. Moreover, you could edit your design in a very creative and fast way with all the tools that EDIT puts at your disposal.
Social media image sizes 2018
FACEBOOK
Facebook photos size 2018 updated
Profile picture size:

180 x 180 pixels on computers and 128 x 128 on smartphones.

Cover photo size:

820 x 310 pixels on computers and 640 x 320 on mobile devices. In mobile screen,

if our text or the most important content is on the sides it won't be seen. To achieve the ideal proportion, leave two columns of 134 pixels on both sides of the picture and center your design in the interior space of 560 x 315 pixels.

Fan page cover video size

: the resolution and optimal size is 820 x 312 pixels. The duration will be between 20 and 90 seconds and it has to be uploaded in MP4 format.

Shared square images:

1200 x 1200 pixels, will be displayed as 470 x 470 pixels.

Share link thumbnail: 484 x 252 pixels (single thumbnails) if you put more than one image, thumbnails will be cropped to square size of 300 x 300 pixels.
Size images ads on Facebook Ads
If you want to make your advertising campaigns on Facebook in an effective way, you will have to be very aware of the image sizes presented by each type of format. If you don't take it into account, you'll be throwing your money away!
Facebook recommends us to use a size of 1600 x 628 pixels. Once uploaded, the images will be resized in the following way:
Ad images on the computer

: 470 x 246 pixels.

Images of ads in the mobile

: 560 x 292 pixels.

Images in ads in vertical column

: 254 x 113.
Size of images of publications promotions:
The promotions of the publications are not exactly like the Facebook Ads. So, it's also important  how they' ll look once promoted and shared.
Images promoted publications on the computer:

470 x 470 pixels.

Images promoted in mobile:

626 x 840 pixels.

Images promoted publications in lateral column:

254 x 133 pixels.
INSTAGRAM
Instagram images size  2018 updated
Profile image

Optimal size: 110 x 110 pixels
Maximum resolution: 180 x 180 pixels
Images of posts:

Square image:

1080 x 1080 is the optimal size. You can also add photos in 640 x 640 pixels to a maximum of 2048 x 2048 px.

Horizontal image:

1080 x 566 pixels is the recommended size. Photos with lower sizes such as 600 x 400 px will be available also.

Vertical image:

1080 x 1350 pixels, it will be displayed in 600 x 749 px.
Size of Instagram image images
In this case, the size that you have used for your publications will serve: square or horizontal.
You must be careful with the text you want to add in these ads because Instagram only allows you a maximum of 20% of the image to include the text.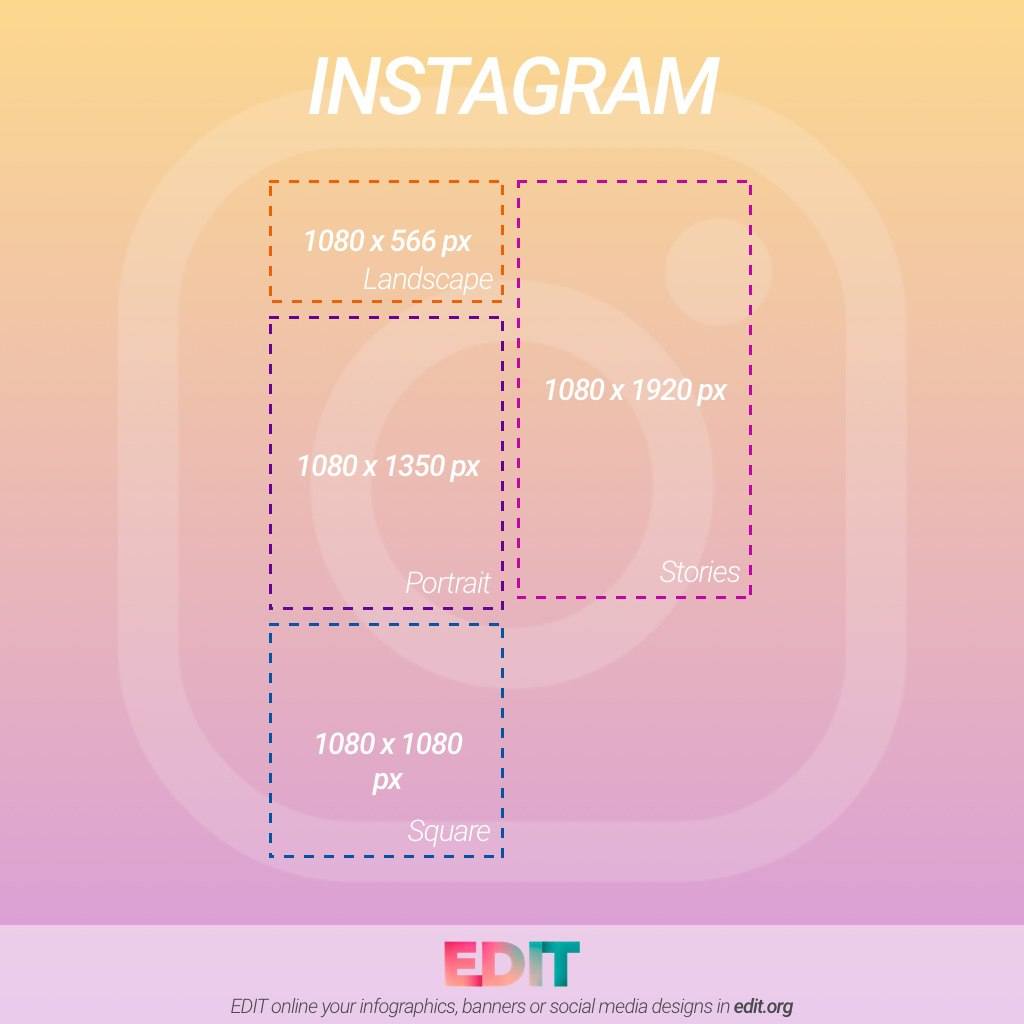 TWITTER
Twitter image sizes 2018 updated
Header photo:

1500 x 500 pixels. It also supports other measures such as 1024 x 280 px.

Profile image

: 400 x 400 pixels is the optimal size but you can also use it with 200 x 200 px.

Images within a tweet:

1024 x 512 pixels. You have to take into account the maximum weight: 5MB for photos and 3MB for GIF.
 Size of Twitter cards images (twitter ads)

LINKEDIN
LinkedIn image size for 2018
PINTEREST
Size of Pinterest images 2018
Vertical format pins (portrait): 600 x 750 pixels
Square format pins: 600 x 600 pixels
Optimal format pins: 600 x 900 pixels
Pins infographic format: 600 x 1200 pixels (only one part will appear, clicking will be complete)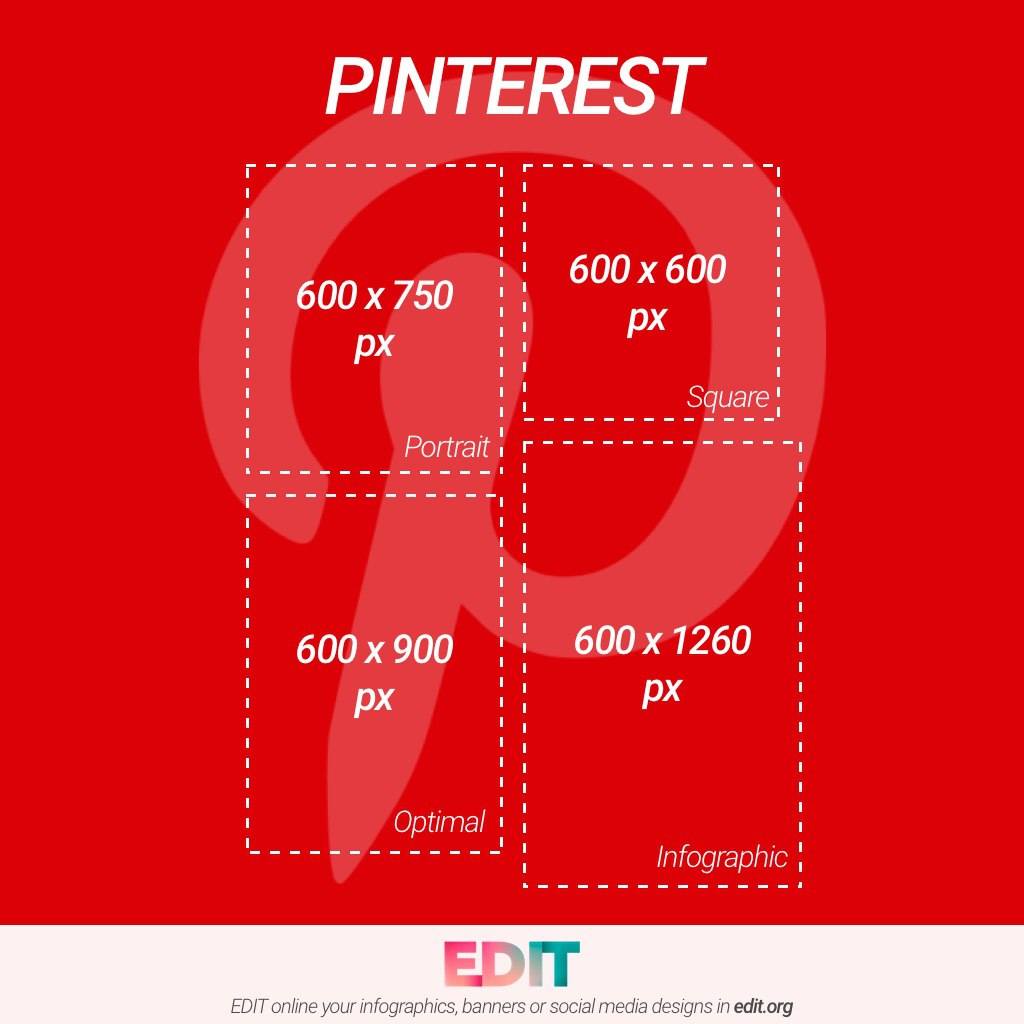 YOUTUBE
Size of YouTube images 2018
Image cover channel: 2560 x 1440 pixels
Video thumbnail: 1280 x720 pixels
Image profile: 100 x 100 pixels